The Varn Family is doing a
ShopHope Tee fundraiser
. I think a lot of ShowHope as they helped us bring our son home by giving us a grant. I would love to see you all purchase one of these fabulous T-shirts that help support ShowHope and the Varn family's adoption.
PLEASE LET ME KNOW IF YOU DO (via comment or email). If I get enough people who buy one, I will give one away!
OK, just a reminder to head over to the Adoption Auction that starts today...
This will help in part our friends, the Dear family.
Just don't bid on the "Adoption Rocks" Tee nor the custom cape, understand?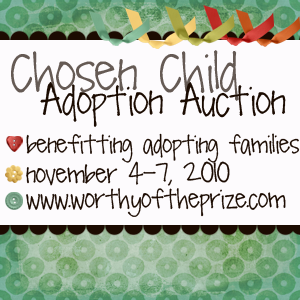 Remember my friend at
My Crazy Adoption
who just did a mission trip giveaway? Well, she inspired the organization
Visiting Orphans to also giveaway a trip
- to anywhere they go! So, if you head over and buy a tee from them, you will be entered to win a mission trip to you choose where! (ends 11/11)