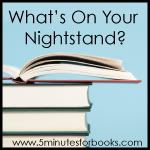 The books that I finished were completed before we left for our stateside assignment as I have hardly had a minute to open a book since we have been home. It is not for lack of good reading material. I have some amazing books waiting for me and I am hoping to find a few hidden moments this next month as we keep on our furlough craziness. (btw, that is why there have been only sporadic posts this month.) So, this is what I have been up to...
Finished in February :
T
The Children's Reading:
Presently Reading:
Found This Month/ Possible Future Reads:
What have you been reading?