In 2012 and this year as well, Melanie from
Only a Breath
has offered
One Word Buttons
free of charge for bloggers. Check mine out nestled at the top of my side bar!
Last year Melanie shared about Missional Mama on her blog, so I asked her if she would be interested in a little interview on here.
I asked her about her year of giving, what she has read, and about missional living among other things. Enjoy learning about another blogging mama.
1. Melanie, Can you tell us a little about yourself and your blog.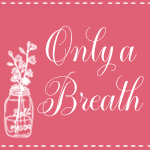 My friends describe me as sweet, happy, loyal, and funny. My husband says I'm a southern belle, and my eight-year-old says I'm the Mario champion on video games. ;) But me? I describe myself as imperfect, blessed, and growing in Christ. I love to write at my blog, and primarily write about faith, family, and the joy of knowing Christ. Topics that I write about often include recipes, free printables, organization, devotionals, giveaways, and more. I love to connect with readers and become friends across the miles!
2. 2012 was a year of giving and you have written about its impact on your life this year. Can you explain how it came about and a few things you have learning?

At the beginning of the year, I was thinking about my "One Word" for the year of 2012. I honestly had a different word picked out, but God kept leading my heart back to the topic of giving. I had not ever intentionally tried to give to others. I had been intentional about so many things, but giving was never one of them. I prayed that God would use 2012 to open my eyes to how to give to others, when to recognize the needs around me, and to trust Him to provide in all things. God has amazed me in how he has blessed me (in SO many ways) through giving. In giving to others, I have gained much more. I trust God more, I cling to "things" less, I see needs more clearly, and I love others more freely. Giving has been the most freeing experience of my life.
3. How do you include missional living in your days?

Every day is a gift. I believe that we should treat each day as if it were our last, especially in our interactions with others. No matter where God has placed us, He can use each of us daily to shine His light and share the hope of His unfailing love with others. So, whether I'm at a soccer game, at work, at home with family, or just at the grocery store, each person I come into contact with was placed there for a specific reason. We are each missionaries, planted in various places, and I want to bloom where I am planted for God alone.
4. What have been your favorite books in the past year or so?
AH, so many! I am a book fanatic. "Redeeming Love" by Francine Rivers literally changed my life. It opened my eyes to how God loves me, and made me want to love God more, my husband more, my children more... "Same Kind of Different as Me" was an eye-opening book and challenged my heart to be the hands and feet of Christ. I don't want to be "comfortable". I want to share the love of Christ. These two have had the greatest impact on my heart in the last year.
5. Can you share with us something that God has been teaching you recently?
God has really been impressing on my heart how important it is to love others, to really love them... and not just pretend. This verse has been on my heart:
"Don't just pretend that you love others. Really love them. Hate what is wrong. Stand on the side of the good. Love each other with genuine affection, and take delight in honoring each other." ~ Rom 12:9-10
6. Please share anything else you have on your mind.

Thank you so much, Amy, for the honor of sharing my heart! You are such a blessing, and I pray God will use your ministry for His glory in all things. Love to you!
Be sure and catch Melanie at Only and Breath or her newest blogging journey,
Real Food Experiment
.